. .

. .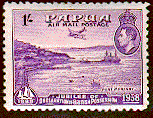 Australasia
Australia
Christmas Island (Indian Ocean)
Cocos-Keeling Islands
Cook Islands
Fiji
French Polynesia
Kiribati
Nauru
New Caledonia
New Zealand
Niue
Papua New Guinea
Pitcairn Islands
Solomon Islands
Tokelau
Tonga
Tuvalu
Vanuatu
Wallis & Futuna
Western Samoa


Note: Although there are no stamp shows held on many of the small island nations and colonies, they are listed in the index purely for completeness. Also note the following places not listed above which issue (or have issued) their own stamps, but are actually part of a country (shown in parentheses). Aitutaki (Cook Islands), Christmas Island, Pacific Ocean (Kiribati), Lord Howe Island (Queensland, Australia), Niuafo'ou or Tin Can Island (Tonga), Norfolk Island (Queensland, Australia) and Penrhyn (Cook Islands).
For other Pacific Island nations - American Samoa, Guam, Marshall Islands, Federated States of Micronesia, Northern Marianas and Palau, see U.S. Possessions & Territories.
---